When choosing a lawyer, it's important to know not only their credentials, but also why they do what they do. You can read our attorney bios on our website. However, we thought we'd dig a little deeper to find out what makes them tick. Why did they choose their practice areas? When was the moment when they realized, "Hey, I'm a lawyer,"? Or even, what's their favorite food? We asked Associate Attorney Daniel Huntley these questions – and more. Here are his responses: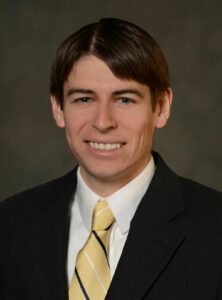 When did you realize you wanted to be a lawyer?
At Georgetown University, I majored in finance, and much of our coursework consisted of case studies. In working through them, I found what I enjoyed most was the problem-solving aspect. Running the statistical analysis or creating the risk model was important, but I thoroughly enjoyed helping to solve the problem and identifying different solutions. Lawyers are professional problem solvers, and so I followed that path.
What led you to your choice of practice area(s)?
I concentrate my practice on Real Estate, Estate Planning, Corporate Law, and Agribusiness.  These areas are generally goal-oriented, so clients come to me seeking a specific result, and I enjoy helping my client solve problems and reach their goals in what can be a non-adversarial manner. For an area like Estate Planning, I enjoy the opportunity to help clients decide what they want to do with their life's work after their passing, including passing on values, family traditions, and experiences. As far as my practice in Agribusiness goes, I come from a farming family. My dad is still actively farming, so I understand the agricultural lifestyle and the sacrifices that come with that calling. I appreciate the opportunity to help farming families perpetuate their own family farms.
Why should someone choose you as their lawyer?
My focus is on helping clients to achieve their goals efficiently and effectively. I listen to what they want to accomplish and set out to do it in the most straightforward way possible while suggesting alternatives that may bring benefits that a client hasn't contemplated.
Do you have a mentor or someone you look up to for professional advice or insight?
While I have a few non-lawyer folks I am lucky enough to call mentors, there are two really great quotes that I try to keep in mind as I practice law. The first is a quote attributed to J.P. Morgan, who said "I don't want a lawyer to tell me what I cannot do, I hire him to tell me how to do what I want to do." I think it's important for a lawyer to avoid imposing his or her framework on a client, and instead work with the parameters that the client provides. As a profession, I think we get a bad rap because we say 'no' when what we really should be saying "yes, if." That quote really sums up my approach to the practice of law.
The second quote is, "It's a great life, if you can stand the pace." Whenever life gets busy, that quote is always a reminder to me that busy is a good thing – there are a lot of great experiences to be had, but only so much time to have them.
What did you do/where did you work and live prior to joining WilliamsMcCarthy LLP?
I grew up in Chana, Illinois, and attended Rochelle Township High School. After graduation, I went to Georgetown University. While I was there, I studied abroad in both Barcelona and London. After majoring in finance, I earned a juris doctorate from the Maurer School of Law in Bloomington, Indiana, before returning back home to the area.
Why did you choose WilliamsMcCarthy LLP?
I chose WilliamsMcCarthy LLP because I wanted to work for a firm that was Midwestern in feel and endgame oriented. There are a lot of great firms in Rockford, but WilliamsMcCarthy LLP stands out because we dial in on our clients' specific needs. If a simple solution is best, that is what we provide. When a more complex answer is the right one, we provide that too.
What would you say distinguishes you and your practice from others?
I try to stay light with my clients. Working with lawyers, and estate planners in particular, has a reputation of being a heavy, disappointing and unsatisfying experience. Your case is serious to me – make no mistake – but that doesn't mean we can't smile about a quirk here or there.  Also, transactional work (estate planning, corporate work, real estate sales) isn't a zero-sum game — there doesn't have to be a 'loser,' so there's no reason why we cannot be both cordial and professional along the way.
How do you like to unwind? Do you have any hobbies?
When I'm not in the office, I enjoy pheasant hunting, being outside, and trips to Northern Wisconsin to see the stars away from all of the lights of the city.
I'm passionate about nature and outdoor education, so my son and I enjoy walking the nature trails at Severson Dells Nature Center. I serve on the Board of Directors there as well.
I also really enjoy food, so you might see my wife and me out to eat at Abreo, Lucha Cantina, or Marc's Fusion Café.
Do you have a favorite food?
I love steamed artichokes. I can't decide whether I like the vegetable itself or that it's a vessel for lemon butter, but they are a Sunday afternoon staple in our house.
What would you like all your clients to know about the service you provide?
That I'm listening. Working with your lawyer should be a collaborative process – you talk, the lawyer listens, the lawyer asks questions, and the lawyer lays out your options and the attributes of each option. I want you to walk away from your experience knowing that you were heard, that you received a service specific to you, and that you understand the service you received.
What is your favorite Rockford restaurant?
I'm partial to Marc's Fusion Cafe. The sushi is amazing and the seaweed & cucumber salad is worth a try!
I'll give you a freebie for Ogle County. If you're in the Oregon area, check out La Vigna restaurant. They have delicious Italian food, and Ali is always a great host.
What is your favorite movie? What kind of music do you listen to?
I am a big fan of "Meet Joe Black" from the 90s. It's a big 'legacy' movie that gets you thinking about how you want to be remembered. Another favorite would be Kenneth Branagh's "Henry V."
As far as music, I'm a big Bob Seger fan, but I am also into a now-defunct British band called Keane. They've got a great piano-driven rock sound that is really interesting.
What city do you live in? Do you have children and/or pets?
I live here in Rockford with my wife, Allison, infant son, James, and our English Setter, Lilly, who is the true boss of our house.