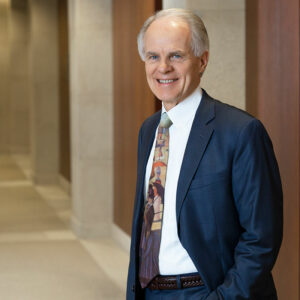 It is with mixed emotions that we, all the members of the WilliamsMcCarthy LLP law firm, announce the retirement of our good friend and much valued former partner, Terry D. Anderson, effective May 1, 2019. Although we will miss having Terry in the office, after 41 years of exemplary service, he has well-earned the opportunity to pursue his other interests.
"It's never easy to bid farewell to a colleague," said John Holevas, president of WilliamsMcCarthy LLP. "Terry has been instrumental to the success and growth of the firm and will be greatly missed. On behalf of all the partners, associates and staff at WilliamsMcCarthyLLP, we wish Terry all the best in his retirement."
Those of us who know Terry best are confident that he will not slow down or retire in any traditional sense, but that he will merely shift the focus of his considerable talents and boundless energy in pursuit of his other passions: travel, reading, enhancement of foreign language skills and spending time with family and friends.
Terry is a Rockford native who dedicated most of his career to WilliamsMcCarthy LLP. He joined the firm in 1978 and became a partner in January 1980. For 41 years, Terry served as a leader in the firm's corporate business group and concentrated his practice in business and tax planning issues for closely held businesses and their owners. A major focus of his practice included business acquisitions and dispositions covering both business succession and the purchase and sale of businesses.
By now, Terry's clients should have received a communication regarding his retirement and introducing the other attorneys at the firm who will continue to meet their legal needs. At our firm, we have a collaborative model so that more than one attorney is familiar with a client's legal matters. We look forward to continuing to serve all of the clients of our firm, and we hope that you will reach out to our colleagues identified below, if you have any questions or concerns about the transition.