We're excited to welcome Samantha Herrlein to the WilliamsMcCarthy family. Samantha returned to the Rockford region after studying at the University of Iowa. We thought this would be the perfect opportunity to reintroduce Samantha to our clients, partners, and community by featuring her in this edition of "In the Spotlight."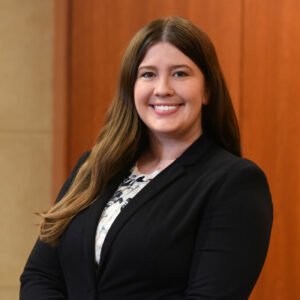 When did you decide you wanted to be a lawyer?
When I was young and people played house, I played president. Around that time, I learned that presidents and many public officials are lawyers. Throughout school, I learned that my skill set really aligned with that of an attorney. I am a problem solver, and a lot of law is problem solving. I learned during my undergraduate studies that I could put my natural talents to work being a lawyer.
How did you decide to focus your practice?
I focused my practice area by a process of elimination. During law school, I did a lot of internships and was exposed to various practice areas. After exploration, the transactional field is where I found my niche. You can write, research, and interact with clients in a fun way. Having clients that are working with you by choice, rather than by necessity, creates a different dynamic. In those situations, you can engage with the client and be a part of their success.
What do you like most about practicing law at WilliamsMcCarthy LLP?
It is a pleasure to collaborate with the attorneys with whom I get to practice at WilliamsMcCarthy. This firm is second to none, and I am very lucky to get to learn from the partners and practice alongside them. The reputation the firm has earned is not because of luck, it's a result of the high standards of excellence we deliver, and that our clients expect and need.
What do you think best characterizes the way you practice law?
I am very matter of fact and to the point. My clients have busy lives, and I try to make the most of the time I have with them. I also recognize this might be a client's first time dealing with a specific legal matter, so I take the time to explain what they need to know so they leave more knowledgeable than they came in. I like to build momentum to ensure everything is moving forward. Being efficient and direct allows clients to quickly clear up any lingering questions. I am also implementing technology into my practice; Zoom calls, phone calls, using digital files where it makes sense. By making myself more available and our time together efficient, clients are better able to find time in their busy schedules.
What are some of the trends you see in your practice area? If you were to give one piece of advice to someone looking to plan an estate or buy/sell property, what would it be (or other advice related to any of your practice areas.)
A home is typically a person's biggest investment and largest asset. Realtors are great for their piece of the transaction, and adding an attorney to your team has tremendous value. This is especially true when someone is selling their home For Sale By Owner because attorneys assist in getting the deal done and ensuring all aspects are covered. The market is moving at breakneck speed, which can be scary for people. Having an attorney from the beginning is really important. Given the current market, it's not uncommon to get 10 offers on a house within 24 hours of its listing. Having your real estate team in place is critical to having an edge right away.
Is there a personal or professional achievement of which you are most proud? If so, why?
Becoming a lawyer! I am the first attorney in my family and completing law school is an accomplishment of which I am very proud. Without having a lot of female role models in law school, it was a challenge. However, I think that helped build my character and now I'm translating that into building a practice. Getting it done and moving to the next challenge is a major accomplishment.
When you're not at work, how do you enjoy spending your time?
My husband and I are very active and love to be outdoors playing pickleball, horseback riding, golfing, and fishing. When we are not active, my family owns a farm in Capron, Illinois and we love to sit out on the deck to relax. We play darts a lot and are going to start a league with our friends!
What's something not a lot of people know about you?
I grew up a dancer and my mom owned a ballet studio in Woodstock, IL basically my whole life. She would teach dance classes while she was pregnant with me, so I tell people I have been dancing since before I was born. I danced throughout my childhood into high school, and during college I would come home to teach and choreograph at the studio.
What are your favorite things about our region?
There is always something going on. City Market started back up and Food Truck Tuesdays are happening at Nicholas Conservatory. If you are interested in something, there is probably an event for it during the year. I also love Rockford's commitment to the arts. There are sculptures, performances, and murals everywhere. You can always find something to enjoy and have fun with in our community.