Elmer C. Rudy, 1931-2017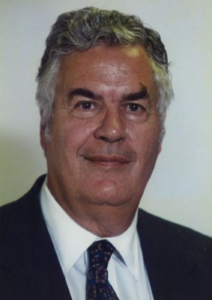 It is with great sadness that we announce the passing of Elmer C. Rudy, former president with WilliamsMcCarthy LLP. Elmer passed away on September 13, 2017, in Rockford. He was 86.
Dedicated to the Rockford community and the firm, Elmer will be remembered for his outstanding leadership. He joined WilliamsMcCarthy LLP in 1958, after graduating in the top 10 percent of his class at the University of Michigan Law School. Elmer was a partner in the firm's corporate and real estate practice groups.
Elmer quickly settled into his role at the firm and became managing partner in 1966, then the first president of the firm in 1980. He retired as president in 1988 but continued to practice law with the firm until 2000. During his time at WilliamsMcCarthy LLP, Elmer led the firm – growing it from six lawyers to more than 30.
He was dedicated to the legal profession, as seen in his volunteerism at state, local and national levels. Elmer was a member of the Winnebago County Bar Association, serving as president from 1980-1981, and receiving the Edward Potter Lathrop Medal from the Association. He also served as chairman of the State and Local Taxation Section Council of the Illinois State Bar Association and was a member of the American Bar Association.
He also held many leadership roles outside the courtroom. Throughout the years, he served on the board of directors of the civic and not-for-profit organizations listed below. Because of his dedication to community service, he was the recipient of the Service Above Self Award from the Rockford Rotary Club.
Board of Boys Farm School (Director and Chairman)
Booker Washington Center (Director and Chairman)
Council of 100, Inc.
Midway Village Museum (Director and Chairman)
Rockford Chamber of Commerce
Rockford Civil War Roundtable
Rockford Public Library (Trustee)
Rockford Rotary Club
Rosecrance (Director and Chairman)
Wesley Willows (Director and Chairman)
Northern Illinois Library System (Trustee)
We will continue to carry on Elmer's legacy of service and leadership in the communities where we live and work. May he rest in peace.